CHARLOTTE HANMANN - danish artist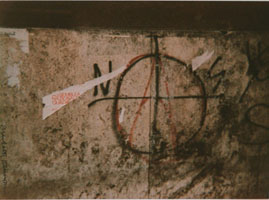 CHARLOTTE HANMANN
mother
Inger Hanmann
Hanmann,
Inger Frimann
,
*1918, maler og emaljekunstner. *7.11.1918 i Stege.
daughter of Veterinary Surgeon
Niels Christoffer Frimann Clausen
and
Dagmar Madsen
.
maternal grandparents

married in 9.9.1947 in Copenhagen the painter
Poul Frederik Hanmann,
father

*20.9.1915 smst., †18.7.1981 smst.,
son of master painter
Johan Hanmann
and
Antonie Christensen
.
paternal grandparents

Dansk Kvindebiografisk Leksikon - Inger Hanmann
children
Marianne Hanmann
(1938),
Charlotte Hanmann
(1950).
Inger Hanmann's work is distinquished by it's decoration.
Her pieces use enamel on silver with the enamel in bold swirling colors in an abstract style. She is a painter, sculptor and ceramist and one of the foremost enamelists in Scandinavia.
Her early eduction was in applied art at the Tegne-og Kunstindustriskolen for Kvinder (Drawing and Applied-Art School for Women) and in fine art at the P. Rostrup Boyesens Malerskole (P. Rostrup Boyesen's Artists' School).
Her interest in enameling began during a trip to italy where she saw beautiful 15th Century pieces. Her enamel works were first produced commercially by A. Michelsen in the 1950s. Her work for Georg Jensen began around 1980, following Jensen's acquisition of A. Michelsen.
These days, Hanmann lives in Frederiksberg, Denmark and spends her time painting.
From GEORG JENSEN HOLLOWWARE, THE SILVERFUND COLLECTION,
David A. Taylor & Jason W. Laskey, 2003
Cité internationale des arts / Charlotte Hanmann
Charlottes grafiske værker
photographer
sister
Marianne Grøndahl
born 1938
two nephews and a niece:-
Grøndahl, Jens Christian
author
Jens Christian Grøndahl
born 1959 in Lyngby and was trained as a film director, and is
one of the most celebrated and widely read writers in Denmark today. His literary work includes twelve novels, essays and several plays.
Silence in October
, published in 2002, is being translated into sixteen languages
Guardian Unlimited Books Review Waves of modernity
Back in Copenhagen, at Kierkegaard's graveside in the Assistens churchyard with Jens Christian Grøndahl, author of the excellent Silence in October
Novels tranlated into english:-
Silence in October
(
2000
)
Lucca
(
2002
)
Virginia
(
2003
)
An Altered Light
(
2005
)
PHOTOGRAPHER
THOMAS GRØNDAHL
Produktionskoordinator
Pernille Grøndahl Hoppe
Second Unit Director or Assistant Director